We have a one-hour minimum booking time.
We require a $200 non-refundable deposit to reserve us for your event. The balance is due two weeks before the event.
One special song request (anything not on our music list is included in our standard rate. We can play additional songs or for an additional fee. The quartet can only play requested songs if string quartet sheet music is available. Please make the request two weeks or more before the event.
We do not attend wedding rehearsals or perform for potential clients before booking.
We will arrive at the performance location at least 20 minutes before the agreed start time to set up and coordinate final details for the event or ceremony. For wedding ceremonies, we need someone (such as a wedding coordinator) to signal us when to begin the ceremony and when to change songs during the procession.
It is important that the agreed performance end time is accurate for our players' scheduling. If we must stay later than end time (for instance if the wedding ceremony starts and ends late) we will send an invoice for the additional performance time in 15 minute increments, plus an additional $40 fee.
We do not perform outdoors October through March.
Please provide four chairs for the quartet at the venue. Arm-less chairs are best.
For outdoor weddings above 75 degrees, please provide shade. You can either position us in the shade or provide a canopy or two large umbrellas (one patio umbrella is not large enough).
We cannot play in any conditions where our instruments may get wet. If it starts raining during a performance, we will stop and go indoors until the weather clears.
For attire, we wear primarily black. The male players may wear a black suit with black tie and white dress shirt.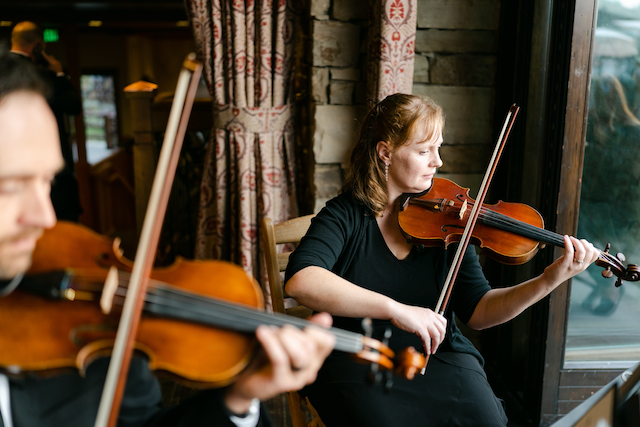 More Information
We are happy to play any style of music including pop music.
It's not necessary to create a full playlist for the quartet. You can tell us to stick to classical music, pop music, or play a mixture of both. Or just tell us a few of your favorites from our repertoire list, and we'll fill in the rest!
We don't usually require any kind of sound amplification, even for large weddings and dinners. However, if you have special circumstances, please let us know and we can discuss.
We are happy to play for LGBTQ weddings! 🏳️‍🌈
We prefer to perform as a full quartet (two violins, one viola, one cello); however, we can also perform as a violin duet, violin/cello duet, or violin soloist if appropriate for the occasion.
We need about an 8'x8' square area of floor space to perform.